It is amazing how much evolution has happened in the female fashion industry over the decades. The fashion trend has evolved. Just as each decade has seen a major change in politics, technology, culture, social norms and art. Female fashion has reflected this ever-changing cycle of trends.
Each new trend seeking to phase out or subdue the last trend and better accentuate the female body shape. From the SBend Corset of the 1900s to the Flapper style of the 1920s, to the Bias-Cut gowns of the 1930s, to the Bikini of the 1940s, to the New Look of the 1950s, to the Mini-skirts of the 1960s, to the Minimalism of the 1990s and the Track-suit of the 2000s, to the blend of athletic and leisure wears of the 2010s.
One thing that has remained a determining factor for all of these trends is how they suit the female body shape.
That said, you are not alone in wondering what your body shape is or how best to accentuate your figure. The world's best designers have wondered the same thing throughout the decades. Needless to say, it might be the key to success in designing apparel for the female body.
What Determines The Female Body Shape?
The female body type is defined by your skeletal structure, as well as Hormones, genes, muscle and fat distribution. Your body type should be defined after puberty however it can change based on Exercise, Lifestyle or Hormonal level changes. It is easy to get unsatisfied with your body shape or to prefer a particular shape to the one with which you are blessed.
To desire a slimmer 'perfect' figure or that slimmer areas be more pronounced than the rest is in fact, human. However, there is no such thing as the 'perfect' female body shape. Instead of desiring to change your body type – Highlight your beautiful points!
How can you determine Your Body Shape?
If you are like me, every time you have to attend that important shindig, whether it's that owambe on Saturday or the executive meeting on Monday, even the ladies hook-up on Friday, you are wondering how best to slay in your assemble. To achieve the fashionista look each time, you have to know and understand your body.
To achieve this, you will need a full-length mirror. Stand naked in front of the full-length mirror to see your body shape. Now you have an idea of what body shape you are. However, don't just guess about the measurements. (Trust me, mirrors can be deceiving!) Measurements are not just for the fashion designers alone. Measure yourself and compare this with the directions provided below and you will see.
Your body measurements with a tape measure should be – around the shoulders, the bust, waist, and hip. So, get a measuring tape, a pen, paper and a friend to help you, because it's a little difficult to get the correct measurement of a few body areas, alone. Want to slay better, understand your body shape better.
What is more, you can't do anything different about your figure other than exercise, stress management, great nutrition, an understanding of your body shape, be it Hour-glass, Pear, Apple, Triangle or Inverted-Triangle shape, will help you slay better and increase self-love.
So what is with the fruit metaphors describing Body shapes? Before I explain that, please permit me to say again, there is no such thing as the 'Perfect' body shape. You are beautiful and uniquely so too. That said, the fruit metaphors are just to provide a visual or pictorial understanding of the different sizes. Remember, your body type will stay with you forever. So, understand it and flaunt it. Let's dig in shall we?
The Inverted Triangle Body Shape: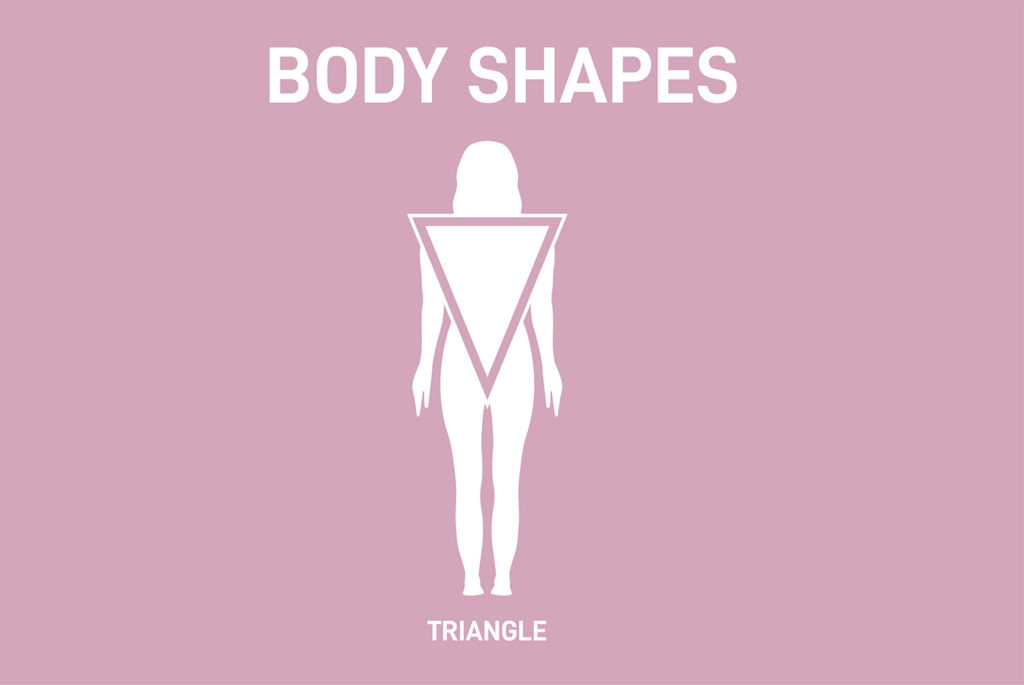 This body shape describes a person who is well-proportioned, with broader shoulders, bust, and narrower hips. The body is not as curvy through your hips and it doesn't have a well-defined waistline. This body shape looks like that of Naomi Campbell. If your shoulders and bust are larger than your relatively narrow hips, you have what's known as an inverted triangle body shape.
Stylists recommend tops that have some shaping around the waist and more open necklines. Also, clothing that shows off your legs. The fashionista key is to aim to balance your broader upper body, with your narrower lower body. To create more of an hour-glass effect. It is easy to achieve this by choosing clothes that add curves to your hips and bottom while creating a more defined waist.
Typical characteristics of an Inverted Triangle Body Shape are:
A proportionally larger upper body
Broad shoulders, and ample bust and a wide back
Hips are slim and your bottom may have a tendency towards the flat side
The waist is subtle and you have a tendency to gain weight belly around the midsection and upper body.
Your beautiful, shapely legs are your best asset.
Straight / Rectangle Body Shape: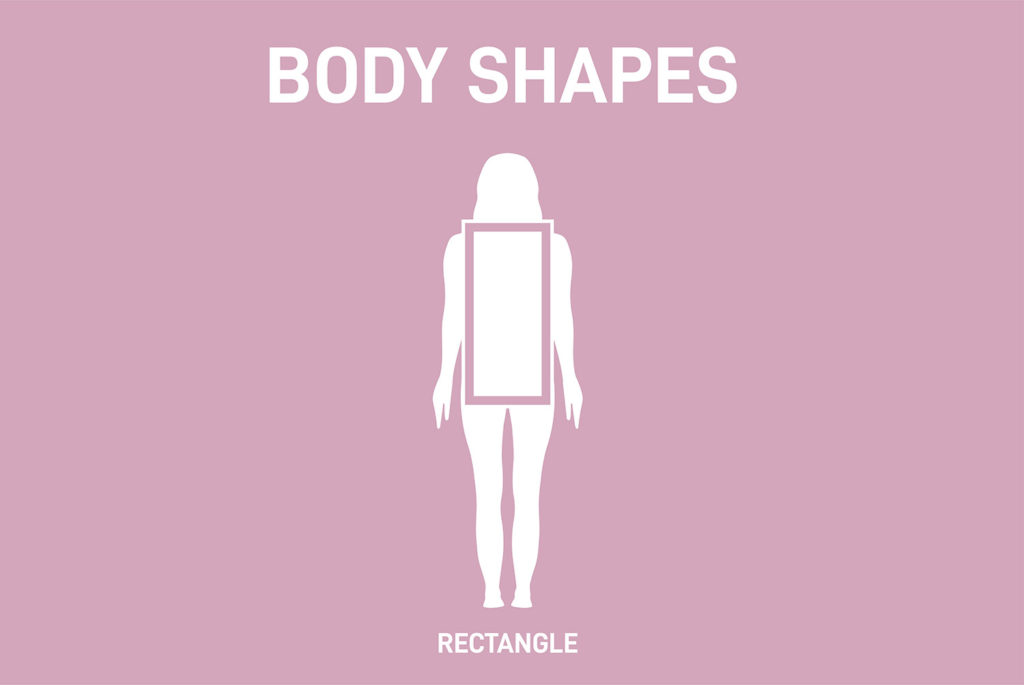 Also regarded as the rectangle or ruler body shape. Women with ruler-straight body shape types sometimes, carry forms of a little potbelly, as boys get. Body fat is distributed in general, in the abdomen, buttocks, chest, and face. Sometimes, the shoulders are the same width as the hips. It could also be larger than the hips or the busts are larger than the hips. The shoulder or bust size can be three around (3) per cent larger than the hip measurement.
For example, if the shoulders measure 36 inches, the female hips will be 34 1/4 inches or smaller. So, you are not curvy, the waist isn't well-defined. But the weight is fairly distributed throughout the body.
On the whole, fat distribution creates the typical ruler (straight) shape. Straight/boyish builds are like athletic types. They also carve a rectangular silhouette. But unlike their athletic counterparts, boyish builds tend to have a tough time getting muscle tone.
Feature of Straight or Rectangular Body Shape.
There is a balance in the ratio between the bust and hips.
The waist is not very defined
You probably have a backside that is more flat than round.
If you gain weight, the pounds would distribute throughout your body frame
Your lower legs are shapely and one of your best gifts
Stylists suggest you slay better in off-the-shoulder tops, tube dresses, and belted waists.
The Pear Body Shape: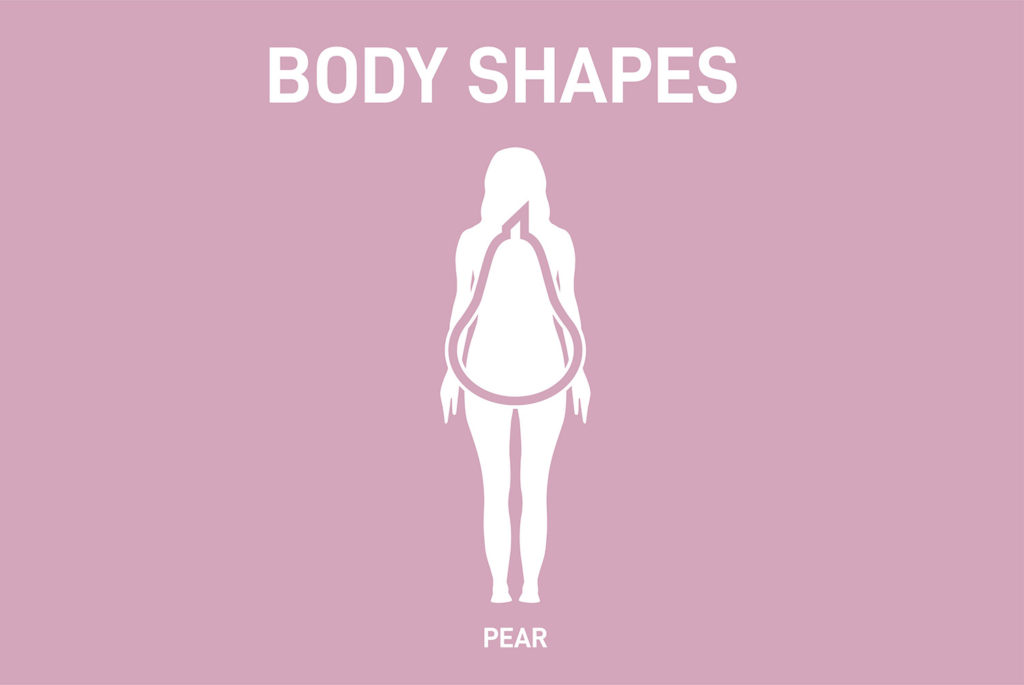 With this shape, your shoulders and bust are narrower than your hips. You could have slim arms and a fairly defined waist. The waist most likely slopes out to your hips. Triangle 'aka' pear body shape is characterized by large hips that are wider than your bust. Also, a defined waist, and proportionately slim arms and shoulders. That means that the widest part of your body is below your waist, around your hips.
If your shape is pear, your fashion aim is to elongate your figure to achieve a less bottom-heavy look. Hence, the first line of attack to reaching this goal is to create an illusion of balancing your hips and your shoulders. While showing off your curves. The key here is to accentuate your top half. Weight distributes more in your bottom and legs, rather than your upper body. Stylists often recommend clothing that shows off the waistline.
Characteristics of the Pear Body Shape are:
Hips are larger than your bust
A nicely defined waist
An elegant neck and proportionately slim arms and shoulders
Weight is first gained in your bottom and legs flowed from your tummy and upper body.
Your waist is your best asset, so don't be afraid to flaunt it.
Apple Body Shape Type: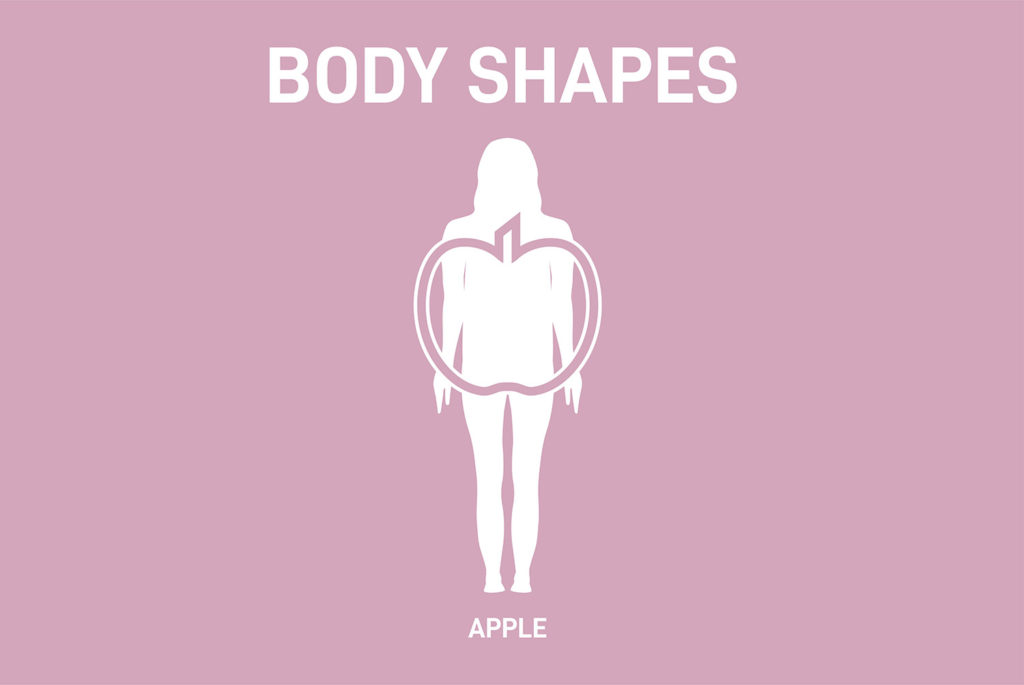 It's the same principle as the rectangle-shaped bodies. Your body has one shape. The main style aims are to draw attention upwards towards your shoulders and face. But that doesn't mean it's not a beautiful kind of body plus, there are perfect little black dresses for you. You will want to choose a loose and straight kind of dress too.
Style suggestions include fitted bras and support underwear to tuck-in your stomach. Un-tucked tops that do not show off the midsection. Semi-fitted and loose-fitting clothing. Tops and bottoms in the same colours are better worn together. Tops and dresses that flow through the waistline. Accessorize with earrings, necklaces, etc. to draw an observer's eyes up towards your shoulders and face.
Features of an Apple Body Shape are:
A large bust, narrow hips, and a full midsection
A tendency to gain weight in around the midsection, back and upper body
The waist is undefined and the widest part of your frame.
Also have a full, shorter neck and full face.
Buttocks are somewhat flat and your legs are slender.
Your shapely, graceful legs are your best gift
Hour-Glass Body Shape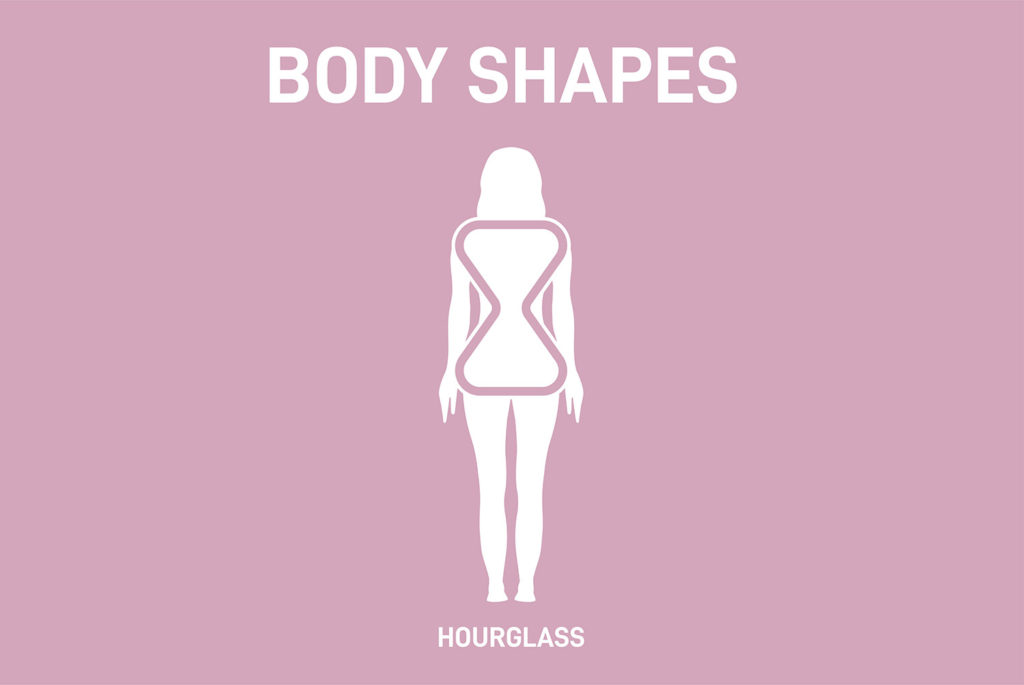 The buttocks and bust line are well-balanced, and the waist is also defined. Your buttocks are round naturally, and your body is in full proportion. Have slightly rounded shoulders that share perfect alignment with your shapely buttocks. Plus, your legs are in proportion with your upper body.
This is the kind of figure women aspire for, because of the exotic thin waist, and bigger than usual hip and bust. Bust round is a little more than or equal to the hip round with a clear cut small waist. In this body shape, the waist could be 13 inches or smaller than the hip resulting in a very curvy figure. If your hips and bust are nearly equal in size plus you have a well-defined waist that's narrower than both, you have an hourglass shape. As a matter of fact, figure-hugging or tailored clothing has traditionally been designed with this body type in mind.
Features of the Hour Glass Shape.
The hips and shoulders have about the same width.
Have a well-defined waistline.
Cleavage is great. Shoulders are a little rounded, and you have rounded buttocks.
Wider, lower Hips than the High hips. Legs and upper body are considered proportional.
Your thighs are full but narrower than the lower hips.
Hourglass body shapes gain weight more around the hips and above the waist.
In conclusion, while this is not an exhaustive list of the female body shapes, these are the basic shapes on which all others revolve. It is also not uncommon to find a blend of two different shapes in an individual. It simply means more options for you to work with. Remember you are beautiful the way you are. All you need to bring out the Fab in you is to understand your body shape and slay confidently in it.